Hull, East Yorkshire, 8th November 2022
PRESS RELEASE STARTS
For Immediate Release
HULL COMPANY, VOITTAA LTD WINS INNOVATE UK COMPETITION FUNDING FOR VERIBLI
Veribli is a smart RFID technology which enables a sustainable circular economy.
Hull smart technology company Voittaa Ltd led by Matt Houldsworth, recently won a UKRI Government innovation competition for £50k and, will launch their new, innovative platform Veribli at Tech Week Humber on Tuesday 8th November 2022. The Innovate UK funding allows the development of game changing ideas that will contribute positive impacts on sustainability and the economy.
"Innovate UK has been supporting Matt through our EDGE service on an exciting project which helps address the needs of the circular economy.  The support has involved coaching and mentoring along with signposting the company to Innovate UK funding, and we were delighted when Matt was recently awarded £50k of Innovate UK Fast Start grant funding for his project."

Simon Monaghan, Senior Innovation & Growth Specialist, Innovate UK EDGE
Veribli is a platform which allows brands to easily implement innovative RFID technology, creating smart products and smart packaging. This technology can be leveraged to support and engage consumers within a circular economy of refill, reuse, repair and recycle as well as protecting them from theft and counterfeiting.
The smart technology interacts with the Veribli circular economy platform to enable refillable packaging to be tracked in the supply chain, return credits to be offered to consumers on a green blockchain system and allows brands to deliver content directly to consumers through a simple tap of their phone.
Veribli is a Consumer Engagement Platform, enabling consumers to make informed decisions on a brands sustainability and social responsibility (CSR) credentials, verify they are purchasing genuine, non-counterfeit products, get accessible information delivered for products use, such as recipes, instructional videos, virtual shopping assistants, care information and other rich content alongside information on how to reuse, refill and eventually recycle packaging, as well as accessing authorised repairers.
It allows product owners to register items to themselves, ensuring their items are secure and safe from theft, and removes the after-sale market for stolen goods.
"The circular economy depends on incentivising ALL stakeholders in the supply chain. The consumer is where this model most often fails. Veribli addresses this with a focus on Customer Engagement" 

Matt Houldsworth, CEO & Founder, Voittaa Ltd
Not only does Veribli tackle sustainability, it also uses this smart technology to combat counterfeiting of goods which globally is a £550b a year issue, causing often unsafe goods to reach unknowing consumers, damaging brand reputation and costing huge sums for UK Plc in lost tax revenue.
Brands wanting more information should visit www.veribli.com or call the Veribli team on 01482 455855.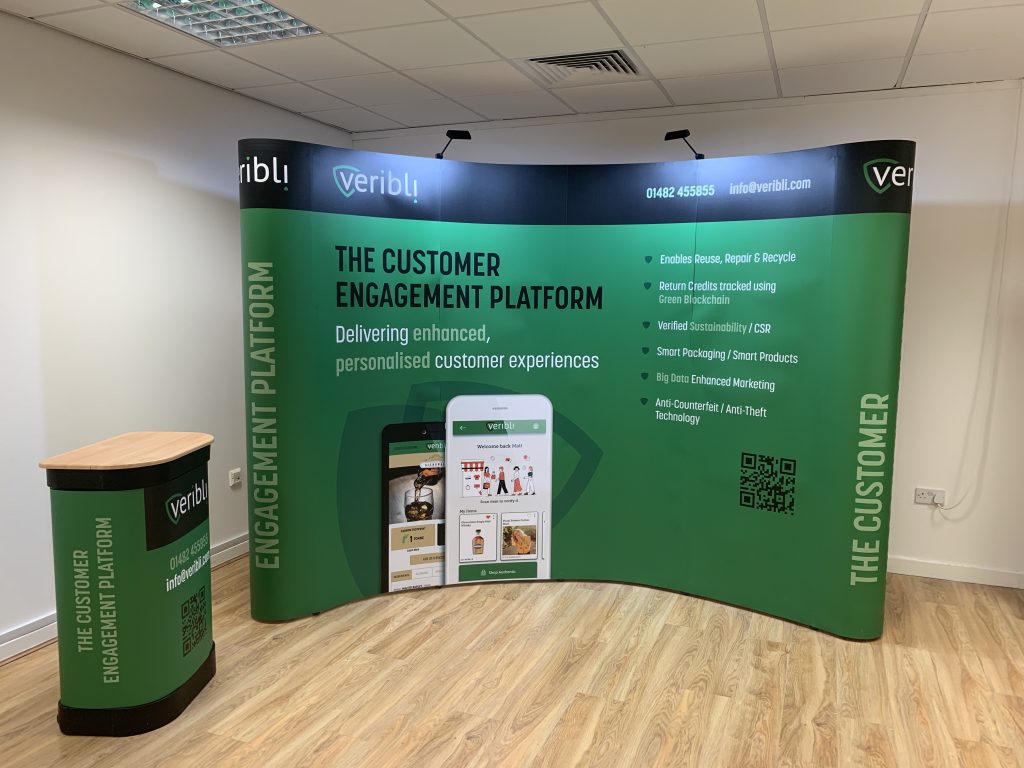 Veribli will launch at Tech Week Humber on Tuesday 8th November 2022.
The fourth Tech Week Humber promises it's most packed itinerary to date with events hosted across the city for the whole week, commencing 7th November. The flagship expo will take place on Tuesday 8th November at the MKM Stadium where guests will hear from speakers across four main themes including Innovation in the Humber and Diversity & Inclusion. Exhibitors include our Headline partner Hull College, Metaverse partner, VISR, Leading Connectivity Partner, KCOM, HEYLEP showcasing businesses from the region with Innovative Tech and many more.
ENDS
Press Contact:
Matt Houldsworth
CEO and Founder of Voittaa Ltd
matt.houldsworth@voittaa.co.uk
01482 455999
07931 337411
Unit 9, Bridge View Park, Henry Boot Way, Hull, HU4 7DW
Interviews welcome
Press pack of logos and images available at https://www.voittaa.co.uk/press/veribli.zip
Press welcome at Tech Week Humber – Free tickets must be applied for – https://www.eventbrite.co.uk/e/tech-expo-2022-tickets-310367927827